Half-Day Athens Sightseeing Tour, including the Acropolis
Available DAILY.
Departs at 8:30 AM - returns at 12:30 PM.
Depart for PANATHINAIKO STADIUM, the cradle of the first Olympic Games of the modern era, which took place in 1896 (short stop).
Pass by the Prime Minister's residence, the ex Royal Palace, Zappion (Conference and Exhibition Hall), National Garden, Hadrian's Arc, St. Paul's Church, the House of Parliament, the Memorial to the Unknown Soldier (where you will see the Evzones in their picturesque uniform), Schlieman's House (Nomismatic Museum), the Catholic Cathedral, the Academy of Fine Arts, the University, the National Library, the Old Parliament, the Constitution Square (Syntagma), the Russian Orthodox Church, the Temple of Olympian Zeus, Hadrian's Arch, and finally the ACROPOLIS.
On the Acropolis, the tour will visit the architectural masterpieces of the Golden Age of Athens: the Propylaea, the Temple of Athena Nike, the Erechtheion, and the PARTHENON (the monument that has been described as "harmony between material & spirit").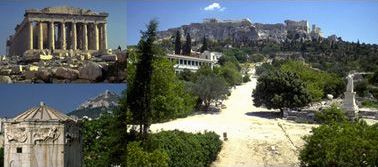 Official price of this tour: €56 per adult

Our Special price: €46 per adult (save €10 per adult)

* After the 1st of April, there will be a €9 supplement per adult, due to the increase in the entrance fees to Acropolis.


Price per child (under 12 y.o.): €30

The above prices are in Euro and include the entrance fees to Acropolis